Thanks mostly to the meteoric rise of Bitcoin in recent years, cryptocurrency has been gaining widespread acceptance throughout the world. There are even countries now that are starting to treat it as legal tender, as it was intended.
Due to its decentralized nature, cryptocurrency gives investors certain advantages over stocks. For instance, cryptocurrency can be withdrawn from a crypto exchange and stored in an outside wallet, thus giving a greater degree of freedom on how it's transferred and used. On the other hand, stocks are stocks, either you keep them or sell them.
Therefore, you want to have a good wallet that you can depend on to store your Bitcoin and other cryptocurrencies. We've taken a look at a long list of wallets, looking at cost, user experience, supported cryptocurrencies, and other features to determine the best Bitcoin wallets of 2021.
Should I Put Crypto in My Wallet?
To answer that question, let's take a look at what a wallet is and what you can use it for, as well as what an exchange is and what goes into the process of buying and trading cryptocurrency.
A cryptocurrency wallet is a place wherein you can store your cryptocurrency. It then validates your transactions whenever you use your cryptocurrency and keeps your secret information safe. The secret information is a private key or a seed, which is used to both validate transactions and "sign" them.
Those transactions are then publicly recorded on the blockchain, which can then be looked up at any time. This system allows for your cryptocurrency to be verified and not be altered, reducing the instance of fraud, theft, or alteration by a third party as the money can be tracked easily through the blockchain.
You choose an exchange and connect it to your preferred payment option. You then place an order for some cryptocurrency and have it safely stored in your wallet. It's a fairly straightforward process, and which should encourage people to get into cryptocurrency as well.
You can't just convert Bitcoin directly to cash whenever you want, so you can't have it that easy. However, you can sell your cryptocurrency anonymously on the blockchain in exchange for cash in any fiat currency you desire. That is done through a cryptocurrency exchange, which handles the transaction on your behalf in exchange for a fee.
The cryptocurrency is then sold and converted to cash as you desire. Depending on the exchange, they would have different rules and time periods for these transactions, but it usually takes 1 to 3 days to complete a Bitcoin sale.
The Best Crypto Wallets for Beginners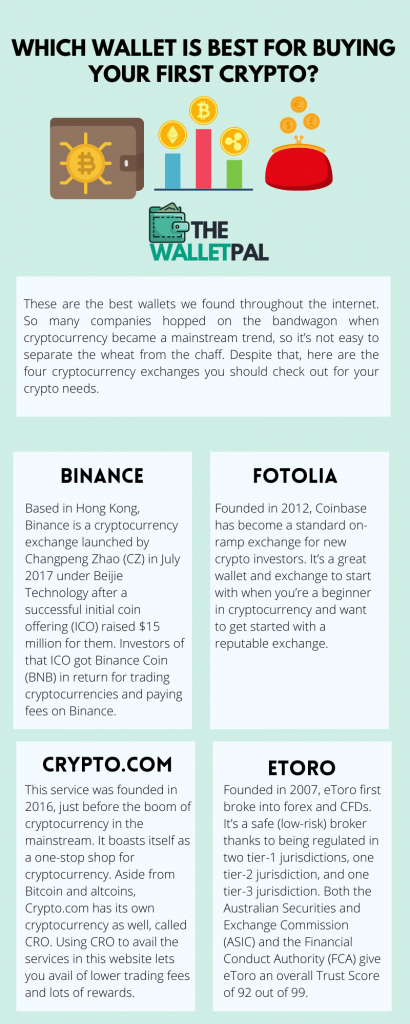 These are the best wallets we found throughout the internet. So many companies hopped on the bandwagon when cryptocurrency became a mainstream trend, so it's not easy to separate the wheat from the chaff. Despite that, here are the four cryptocurrency exchanges you should check out for your crypto needs.
Based in Hong Kong, Binance is a cryptocurrency exchange launched by Changpeng Zhao (CZ) in July 2017 under Beijie Technology after a successful initial coin offering (ICO) raised $15 million for them. Investors of that ICO got Binance Coin (BNB) in return for trading cryptocurrencies and paying fees on Binance.
Beijie Technology has maintained an impressive track record, as well as Zhao, who has an extensive CV when it comes to cryptocurrency. He was the technical director at Blockchain.com, which gave him the experience to now have his own platform providing trading for over 30 other platforms. Their servers are located in offshore locations due to the Chinese government's current belligerent attitude towards cryptocurrencies.
As for learning how to trade crypto through Binance, you may find it to be pretty good for learning the ropes as it can scale up nicely. You won't easily outgrow Binance as it has features like letting you trade with combinations like Bitcoin and Ethereum at the same time. Since most of the major coins are available in Binance, you can get familiar with them right away here.
Binance supports a wide range of currencies with low trading fees and multilingual support. This is to be expected from an exchange that's based in a region outside North America, and they have a pretty good reputation as a result. However, they do have some issues regarding their customer support and their two-factor-authentication.
You may have heard of Coinbase, one of the leading mainstream cryptocurrency exchanges in the United States. Founded in 2012, Coinbase has become a standard on-ramp exchange for new crypto investors. It's a great wallet and exchange to start with when you're a beginner in cryptocurrency and want to get started with a reputable exchange.
Coinbase also offers a solid variety of altcoins, featuring over 25 cryptocurrency for investment, trade, and staking. They include Ethereum, Litecoin, Bitcoin Cash, Ripple, and many more. The user interface is very simple and intuitive, so you can figure out how to get around and buy crypto very easily. It also has high liquidity, so you don't have to worry about things going bad.
On the other hand, fees can get pretty high, especially when compared to its rivals. If you're not using Coinbase Pro, you'll be inundated with fees, so you'll want to subscribe to Coinbase Pro if you plan to use Coinbase for a significant amount of time.
If you happen to be exclusively an altcoin trader, Coinbase won't be that good for you as there are other exchanges that let you trade even more altcoins. Also, there was a report on 24 August 2021 by CNBC that the website may have been hacked and user accounts were compromised, which certainly doesn't inspire confidence.
This service was founded in 2016, just before the boom of cryptocurrency in the mainstream. It boasts itself as a one-stop shop for cryptocurrency. Aside from Bitcoin and altcoins, Crypto.com has its own cryptocurrency as well, called CRO. Using CRO to avail the services in this website lets you avail of lower trading fees and lots of rewards.
If you're into altcoins, this is the exchange to use as it has over 90 cryptocurrencies available to US traders, and you can avail of a Visa card that lets you spend your crypto and earn rewards through CRO. It also allows you to earn a higher rate of interest on crypto holdings compared to even the best high-yield savings accounts out there. You also get tax support, which is nice of them to provide.
However, finding resources on learning how to use Crypto.com can be quite hard to come by, so this is recommended only for experienced crypto traders. It also charges higher trading fees for low-volume traders, especially if they don't use CRO in this exchange. The in-app customer support is also pretty slow, so it may test your patience.
Also, the cashback rewards and perks are all paid out in CRO. That means you'll find that it experiences fluctuations in value and you'll have to go out of your own way to cash it out in your preferred fiat currency.
Among all the supposedly beginner-friendly cryptocurrency exchanges out there, few can beat the copy-trading platform eToro. It has been picking up steam lately as a cryptocurrency exchange, but eToro has been around even before the very concept of crypto became reality. As cryptocurrency became a thing, eToro jumped on the bandwagon before everyone else and added it to its portfolio. Now, it's one of the biggest financial platforms on the internet.
Founded in 2007, eToro first broke into forex and CFDs. It's a safe (low-risk) broker thanks to being regulated in two tier-1 jurisdictions, one tier-2 jurisdiction, and one tier-3 jurisdiction. Both the Australian Securities and Exchange Commission (ASIC) and the Financial Conduct Authority (FCA) give eToro an overall Trust Score of 92 out of 99.
Nowadays, it can copy the trades of investors across 2300+ instruments, which include exchange-traded securities, forex, CFDs, and popular cryptocurrencies. Not only is it good for crypto, but it also gives beginners a very good view of the bigger picture of financial investment and trading.
If you have to choose your very first wallet, eToro is a pretty strong option. It holds your hand a lot, so inexperienced traders will find this to be a great educational tool for learning the ropes in trading. Of course, that also means that it's not recommended for experienced traders who do high-volume trades since its higher spreads and small maximum trade sizes may be quite restrictive.
Conclusion
Any one of these exchanges can be your gateway into the frenetic world of cryptocurrency and learn as you go. Just remember that however quick things happen in the world of financial investment, they go even faster in cryptocurrency. As things get more and more digital in nature, the speed of how things happen becomes like a blink of an eye.
That's why having a good Bitcoin wallet is crucial to make sure that your cryptocurrency is safe and accessible to only you at all times.