Having a library of stock images to draw from in order to make your content, whether it's a blog post or a video, is a great convenience for content creators and marketers. A good stock image site gives them a nearly limitless pool of material to draw inspiration from and use for their creative materials. Stock images are indispensable for content marketing campaigns.
But not all of the best stock images sites do not need premium subscriptions. While some of the best-known ones do have them, some of the top stock image sites are completely free and have the best free stock photos that can give those premium sites a run for their money.
Let's take a look at the best of both premium and free stock images websites out there that you can use for your content.
About Licenses
A lot of the high-quality stock photos out there are actually made free from copyright restrictions and/or licensed under the Creative Commons public domain attribution, thus being royalty free and the most you have to do is to have their credits attached to them somehow.
With these stock photos, you can copy, modify, distribute, and perform work on them, even for commercial purposes. You can do this without having to ask permission, which should be convenient for many content creators who wish to crank out content on a daily basis.
However, some of those photos may still require attribution. Discretion is advised in determining whether the stock images you're using for your content will need that attribution. Let's now look at the best stock image websites out there.
Best Stock Images Sites 2021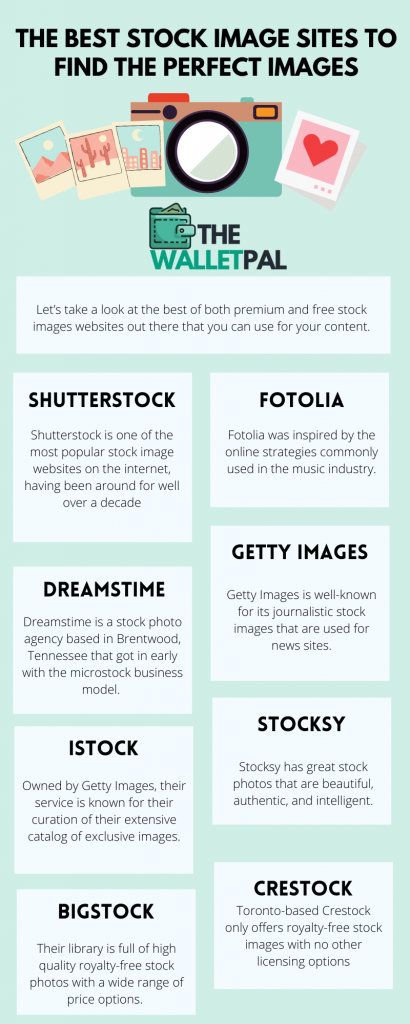 Shutterstock is one of the most popular stock image websites on the internet, having been around for well over a decade and pioneering the subscription model that is now used by just about every other stock image service out there. Shutterstock is also the first stock photo agency to go public, being listed on the New York Stock Exchange.
It's the largest royalty-free stock photo collection on the internet with over 220 million files and counting. That makes variety the main strength of Shutterstock, which is coupled with a very affordable subscription model to boot. They also have more than 11 million video clips in Full HD and 4K resolution, as well as stock music.
Having been started in 2003 by a photographer, it's incredible to see how far Shutterstock has come. If you have money to spend on a subscription plan, you may want to give Shutterstock a try. After all, there are good reasons why Shutterstock has remained as big as it is.
Starting as a stock photography agency in Europe, Fotolia has gradually become an internationally-owned company that's now ranked as one of the top 3 stock photography agencies in the world. Describing itself as a social marketplace for images and design files, Fotolia was inspired by the online strategies commonly used in the music industry.
This stock images site offers some of the most affordable extended licenses in the stock photography market, which has contributed greatly to its success. Fotolia now has well over 19 million images, which include photos, vector images, audio, and video from over 2.5 million contributing photographers and designers. They are then purchased by over 3 million buyers all over the world, viewing the website in one of 13 available languages.
With over 20 years under its belt, Dreamstime is a stock photo agency based in Brentwood, Tennessee that got in early with the microstock business model. They've since built up an amazing reputation as one of the top stock photo companies on the internet. You have well over 85 million royalty-free stock images to draw from.
You can choose between different file formats, from regular JPG to AI vector files, TIFF files, and EPS files, as well as RAW for purchase. That gives you a tremendous amount of options for your needs, from just adding an image to your blog post to using a stock image as a reference for your own artwork.
You can search by keywords, categories, collections, file types, orientation, and license type. Since they've been around for over two decades, you can be sure that they have what you're looking for right off the bat.
A lot older and more upscale, Getty Images is well-known for its journalistic stock images that are used for news sites. If you're looking for a photo of an event, a famous figure, or an exclusive collection, you'll likely find it in Getty Images. If you're using it for commercial and editorial use, you should be able to find royalty-free images here.
These premium photos are very much on demand, so much that Getty Images can charge $125 to $500 for each. You can get some for a lower price of $100 to $375 each through purchasing an Ultrapack. This is what you use if you really need high-quality photos of high-profile subjects.
Getty Images has well over 80 million images covering Creative and Editorial, and Current and Historical Archive categories in Photo, Vector, Illustration, Video, and Audio formats. Since Getty has been around since 1995, you know there's a deep pool of stuff you can draw from.
If you're wondering how Getty could ever stay in business when they can sell only to customers that can actually afford their exorbitant prices, that's because they have another service that can cater to more people. Another pioneer of the microstock model, iStock sells royalty-free stock images online at low prices with minimum payment requirement.
Owned by Getty Images, their service is known for their curation of their extensive catalog of exclusive images. Each of these images can cost between $8 and $33 each, depending on the collection and credit pack used.
Founded in April 2000 and based in Alberta, Canada, iStock supports 13 languages and caters to a wider range of customers who need stock images for their content. They also offer free photos, illustrations, videos, and audio clips every week.
While not as well-known as its counterparts, Stocksy has great stock photos that are beautiful, authentic, and intelligent. They're a cut above your usual stock photos, and its business model shifts from the usual microstock to just letting you buy great-looking photos.
Other stock photo websites tend to overcomplicate it with various subscription plans and licenses. Stocksy lets you choose a photo that you won't be able to find anywhere else and just buy it. Their vision is to democratize stock photography with a sustainable business model.
Founded by Bruce Livingstone in 2013, having been unhappy with the direction that Getty Images was taking his first stock photo business iStock, Stocksy was the result of the lessons and frustrations he encountered during that transition period from its acquisition by Getty in 2006 for $50 million to him stepping down as the company's CEO in 2009.
Quite different from most of the others on this list, the Toronto-based Crestock only offers royalty-free stock images with no other licensing options. Founded in 2005 by a Norwegian company, then acquired by Canada-based Masterfile in 2010, Crestock is somehow able to retain most of its original premise and identity even with that transition.
By focusing on offering only royalty-free stock images, Crestock makes the whole thing less confusing for its customers. They seek to educate their buyers, as well as providing resources for designers and content creators with various options for purchasing their high quality stock images. There are also plenty of free images that are also filled with up-to-date industry information.
The premium ones can be bought through direct purchase, credits, and subscriptions. Whichever you prefer, the fact that Crestock offers those options for your purchase is already more than what most other stock image sites offer.
Another one of those stock photo sites that has been around for quite a while now, BigStock became a Shutterstock subsidiary and has benefited from the relationship. Their library is full of high quality royalty-free stock photos with a wide range of price options. Whatever your budget may be, you can get something out of BigStock.
Images are sold on demand with credit packs between $0.99 to $21. If you choose to pay through subscriptions, you get plenty more options between daily and monthly download limits, volume sizes, and going from monthly subscription to annual subscription.
Bigstock is a stock photo agency with almost 15 years in business, and was acquired by Shutterstock early on. This company has a very large image library full of high quality royalty free stock photos, and a much wider price range with options for every budget.
While it has a somewhat unusual name, there's nothing unusual about the place of 123RF in the industry. It has been one of the biggest stock photo services online for a long time now due to its affordable image packs. The lowest rates they offer are through subscription plans with a monthly cap, which can cost you as low as $0.36 per file.
With well over 173 million stock photos and vector images, as well as stock video footage and audio clips in its library, 123RF has always been a reliable option for anyone looking for stock photos to work with since 2005. They have extended licenses for additional usage rights, as well as editorial use licenses for the appropriate forms of content that may need it.
With over 145 million photos and a simple pricing system for selling them, Alamy is a stock photo site that you need to check out. It has been online since 1999, making it one of the mainstays of the industry. However, it's not just a seller of stock images, but also an educational site for anyone who is interested in stock photography. It teaches what it's about, how to effectively communicate through stock photos, and so on.
Alamy's photos are available on demand only, depending on the license type you choose. Rights Managed photos can cost between $20 to $200, while Royalty-Free images cost from $50 to $365, all according to size. You can save money by using credit packs to buy your desired stock photos. As far as stock photo agencies go, Alamy is fairly traditional and reliable, having been around for over 20 years.