In this day and age, one of the factors that can affect just about every aspect of our modern lives is our credit card score. That metric can dictate how much you have to spend on loans, mortgages, and insurance premiums, or if you're able to avail of them at all.
It dictates your ability to move up the financial ladder, so you want to be able to obtain and maintain a good credit card score to prevent coming across problems in your life. If not managed properly, you may even end up unemployed and find it incredibly difficult to climb out of that seemingly bottomless pit.
But fear not as there are companies out there that provide services for helping out people with bad credit. The best credit repair companies out there can help significantly improve your otherwise dismal credit score, thus helping you dig out of the financial hole you're stuck in.
Let's take a look at what companies help improve credit score and how they're able to do that.
What is Credit Repair?
Credit repair is the process of addressing errors in credit reports, thus rectifying them in an attempt to bring the credit score back up. There are a number of companies out there that are reputed to have good credit repair services.
These credit repair services go through this by checking your credit reports and looking for incorrect entries. When errors are spotted, credit bureaus are contacted to have the erroneous entries removed. Many of these companies contact the bureaus for verifying these entries, and they're legally bound to erase entries if they're unable to verify them.
Basically, you contact the lender and credit bureaus to deal with inconsistencies found in your credit reports. If you want to do it yourself, you can get started by asking for a copy of your credit report, comb through it thoroughly, look for erroneous entries, and report those errors to the credit bureaus to have them removed.
But that can get really tedious and time-consuming, which is why you would want to have a credit repair service do it for you.
Best Credit Repair Services of 2021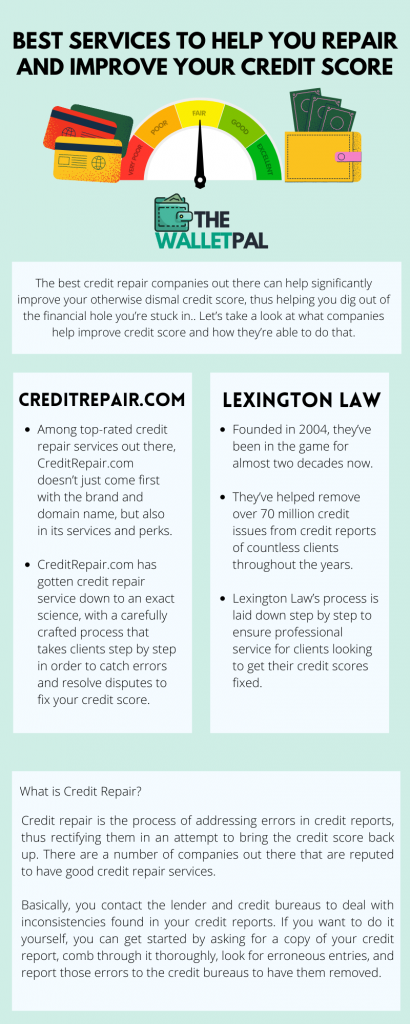 Among top-rated credit repair services out there, CreditRepair.com doesn't just come first with the brand and domain name, but also in its services and perks. Founded in 2012, CreditRepair.com has helped clients remove over 1.8 million erroneous entries from their credit reports and assisted in resolving over 19 million disputes.
In less than a decade, it has saved countless customers from financial woes by fixing their credit scores. CreditRepair.com has gotten credit repair service down to an exact science, with a carefully crafted process that takes clients step by step in order to catch errors and resolve disputes to fix your credit score. You get attended to by helpful customer service representatives, who will patiently take you through each procedure.
One way or another, CreditRepair.com will find a way to improve your credit score and certainly pull you out of your financial rut. Not only is it one of the best credit repair companies out there right now, but they also provide flexible plans for all sorts of clients with different needs. You can choose between primary, moderate, and aggressive plans, depending on how much improvement is needed for your credit score.
Credit score repair and improvement does not happen overnight. It requires time, professional expertise, and help from a legal firm to smooth things out. That means the best possible credit repair service comes from a company that knows the law. That's the foundation upon which Lexington Law is built, and it makes them a strong candidate for credit score repair you can definitely count on.
Founded in 2004, they've been in the game for almost two decades now. They've helped remove over 70 million credit issues from credit reports of countless clients throughout the years. Lexington Law's process is laid down step by step to ensure professional service for clients looking to get their credit scores fixed.
Upon identifying the problem, Lexington Law calls up your creditors and corresponding bureaus to verify the potentially erroneous items that were found. If those items can't be verified, the creditors are legally bound to remove those items and write them off. Lexington Law then keeps tabs on your account to prevent further issues and address new ones that may arise over time.
Conclusion
If you wish to progress in life, you need a good credit score in order to be able to do various things that will involve taking out loans and such, all of which require a metric that tells banks and companies that they can trust you. That's what a credit score is all about, and having a bad credit score can be quite the obstacle in life, one that has taken plenty of people by surprise.
These companies are some of the very best that do this kind of service for all sorts of customers who may feel distressed about having bad credit scores. One thing you should take note of is that they understand why their services are needed, so they know how to treat people who are desperate for assistance in this matter. Customer service is a top priority for these companies.
It's crucial that the company you end up going to for your credit score repair is a highly-reputed one that is known to treat their customers with the utmost respect and care. After all, you're depending on them for your financial future and entrusting your private information to them.