Gift cards can make your shopping experience a whole lot better by giving you significant discounts and other perks that you wouldn't have received otherwise if you never bothered to procure them in the first place.
Those gift cards are effectively free cash that let you save money and reduce your spending each month. If you care about making the most out of your budget, then you definitely would want to pay attention to gift cards.
This is made better with digital wallets becoming more prevalent, thus cashless transactions becoming more of the norm. That's where gift cards become an even more common method of payment for everyday online shopping.
Some of the biggest brands in the world, like Amazon, Target, Sephora, and prepaid Visa cards, are now being utilized for cashless shopping. That's where gift cards can come in to make the online shopping experience even better.
Best Free Giftcard Sites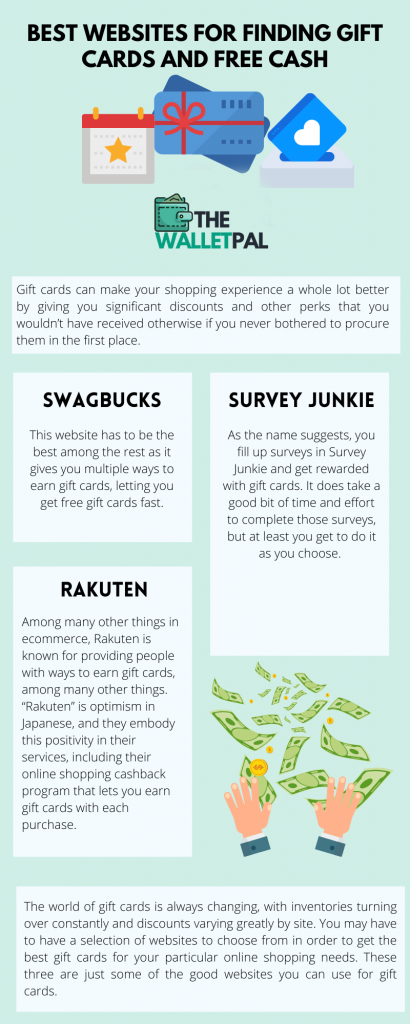 These websites are great for getting free gift cards that will help you save tons of cash over time as you shop more online. Each of them provide different ways to get free gift cards, so you'll have to learn how they work as you go and see which one fits you best. After all, if it takes you more time and effort to get gift cards from a particular website, you won't keep using it.
This website has to be the best among the rest as it gives you multiple ways to earn gift cards, letting you get free gift cards fast. It has just about everything you want from a rewards program that saves you tons of money in your shopping. Swagbucks has been giving out free gift cards for over 30 years now, and they're far from stopping anytime soon.
You earn points called Swagbucks by completing various online activities like watching videos, browsing the web, completing surveys, and playing games on your own time. You also earn Swagbucks when you shop through their online portal and buy from one of their retail partners.
Swagbucks lets you payout for as little as $3. They guarantee that things go smoothly by only letting certain retailers participate in giving gift cards of that amount. But that does mean you don't have to earn a lot to cash in and start saving on your shopping right away.
Swagbucks has paid out over $517 million dollars in gift cards and cash. Trustpilot gives them a trust score of 4.3 out of 5. That reputation puts them right at the top of the list of websites that give out gift cards on the internet. You can even exchange your Swagbucks for a PayPal deposit if you prefer that.
As the name suggests, you fill up surveys in Survey Junkie and get rewarded with gift cards. It does take a good bit of time and effort to complete those surveys, but at least you get to do it as you choose. The more surveys you complete, the more gift cards you earn. You can treat it as work or just something to fill your idle time, and you'll get gift cards out of it.
You can cash out on Survey Junkie for gift cards upon reaching 1,000 points, which is a $10 value. Not only do you get free gift cards, but you also get to help the industry by sharing your opinions on various subjects. It's an intellectually-stimulating way to earn your gift cards.
Trustpilot gives Survey Junkie a trust score of 4.5 out of 5.
You may have heard of this name before. Among many other things in ecommerce, Rakuten is known for providing people with ways to earn gift cards, among many other things. "Rakuten" is optimism in Japanese, and they embody this positivity in their services, including their online shopping cashback program that lets you earn gift cards with each purchase.
Rakuten is partnered with over 2,000 stores, with each of them offering a cash back bonus through Rakuten for every purchase you make. Those bonuses can range from 1% to as high as 40% of your purchase. You'll then accrue a cash balance on your account, and you're sent that balance every quarter to either your PayPal or mail.
Trustpilot gives Rakuten a trust score of 4.3 out of 5.
Other Things to Consider
According to studies on the psychology of consumers, people tend to spend gift card balances more freely than cash. Gift cards may be seen as free cash, but they do get spent more with the mindset of the "free" part than the "cash" part. In turn, gift cards are given out by these companies because they're proven to encourage consumers to make more purchases.
There's also the problem of returning something you purchased with a gift card. You won't get real money back upon returning it, unlike if you used a credit or debit card to make the purchase. You'll get another gift card as a refund, so you can only make use of that if you're going to purchase something again from the same store.
If you swear to never buy anything from that store again due to the issue that made you want to return what you bought in the first place, then tough luck for you.
Finally, consider the value of your time. You may be spending more time getting gift cards than what makes it worth your while. If you spend an hour or more to get a 5% discount at Starbucks, that means you save 75 cents on a $15 purchase.
Perhaps you'll save even more if you make bigger purchases, but you may want to ask yourself whether you're actually being encouraged to spend just because you have a discount as opposed to actually needing to make that purchase in the first place.
Conclusion
The world of gift cards is always changing, with inventories turning over constantly and discounts varying greatly by site. You may have to have a selection of websites to choose from in order to get the best gift cards for your particular online shopping needs. These three are just some of the good websites you can use for gift cards.
They all offer the same basic service, which is giving you a way to obtain retail store gift cards for less than face value. You can save money on your purchases and even afford to buy more stuff over time through putting enough time and effort into obtaining gift cards through these sites, and you'll be glad you did.