If you have some time to kill, you might as well not spend the rest of your spare time watching cat videos on YouTube. You should take paid online surveys and test free products to make up to $1000 in a year. For just killing time, that's a lot of money you can slash off your expenses.
These surveys are put out by dozens of market research companies that are recruiting people from around the world to fill out online surveys for cash. They rely on people sharing their opinions online to understand their markets, so they would pay good money for that information.
But be careful when you pick survey sites to spend your time in. Many of them turn out to never pay out to their users. Therefore, you want to find reviews of survey sites that have been around for a while and have good public reputations, paying good money to have their surveys filled up.
These sites tend to have limited numbers of paid surveys for each user per month since they wouldn't want to bleed too much money each month. If you're just doing it every now and then on the side, that's fine. But if you want to make serious money and rewards from it, you should sign up to as many online survey panels as you can.
Let's take a look at the best online surveys for money out there on the internet. These survey sites are tried and tested, having been around for years and are known to deliver for real.
Best Paid Online Survey Sites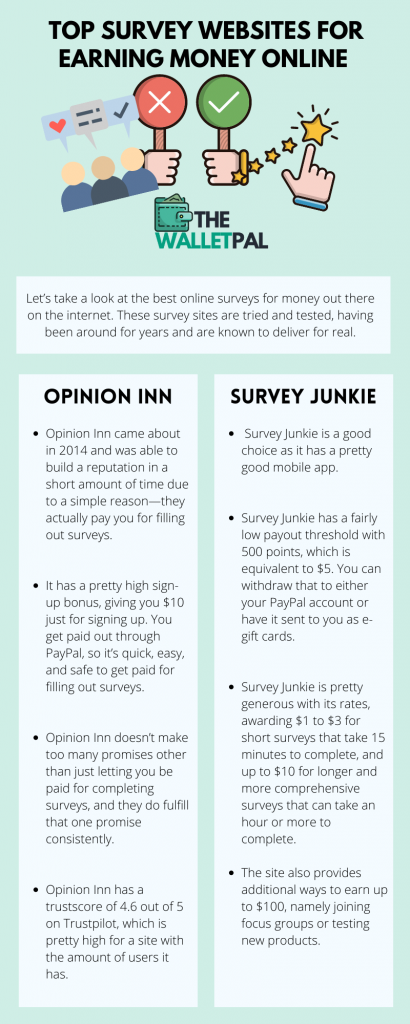 Which survey sites are worth it? There are quite a few out there that actually deliver what they promise. While they individually do things a little bit differently from each other, all of them let you earn money and rewards by having you complete surveys for them.
A relative newcomer in the paid survey scene, Opinion Inn came about in 2014 and was able to build a reputation in a short amount of time due to a simple reason—they actually pay you for filling out surveys. As long as you're at least 18 years old, you can sign up for Opinion Inn and start completing surveys soon for cash.
It has a pretty high sign-up bonus, giving you $10 just for signing up. You get paid out through PayPal, so it's quick, easy, and safe to get paid for filling out surveys. It also lets any adult from anywhere in the world join in absolutely for free, although it does give better rates for residents of the US, UK, Canada, Australia, or India. But you can still get paid for doing surveys even if you're not living in those countries.
However, since they're so lenient with their recruitment, it also means something else has to give. In this case, they have a high payout threshold at $25, and they only let you fill up a limited number of surveys at a time. That means it'll take a while before you actually get paid in Opinion Inn. However, if you're able to be patient and keep at it, you'll get at least $25 for your trouble.
Opinion Inn doesn't make too many promises other than just letting you be paid for completing surveys, and they do fulfill that one promise consistently. Unlike a lot of other paid survey sites, Opinion Inn doesn't have that stench of scamming about it. You get what you see from this site.
Users are generally happy with Opinion Inn, as well as third-party trust boards. Opinion Inn has a trustscore of 4.6 out of 5 on Trustpilot, which is pretty high for a site with the amount of users it has. The reviews show that users are quite happy with the payouts, so things are pretty good in that aspect.
If you want to do surveys on your phone, then Survey Junkie is a good choice as it has a pretty good mobile app. You can fill surveys while commuting, queueing, waiting for your food to cook, or so on. You can then be rewarded for your idle time with points that can then accumulate to a good payout every month. If you're a regular user, you can earn as much as $200 a month.
Survey Junkie has a fairly low payout threshold with 500 points, which is equivalent to $5. You can withdraw that to either your PayPal account or have it sent to you as e-gift cards. Survey Junkie is pretty generous with its rates, awarding $1 to $3 for short surveys that take 15 minutes to complete, and up to $10 for longer and more comprehensive surveys that can take an hour or more to complete.
You can get 2 to 3 extra points if you get screened out of the survey. You can minimize the disqualification rate by completing a full profile questionnaire, which will make sure that the surveys will see you as a qualified subject. After all, the last thing you want is to be excluded from a survey you spent time answering.
The site also provides additional ways to earn up to $100, namely joining focus groups or testing new products. You can have opportunities sent directly to your email, upon which you can then join in as you wish. You can also install the Survey Junkie Pulse extension on your web browser, which automatically shares your browsing activities in exchange for rewards.
However, due to the number of users there are in Survey Junkie, surveys tend to get filled up quite fast. You may find it rather difficult to get surveys that haven't been filled up yet, so you have to be quick on your feet. Also, you may find the focus groups hard to qualify for, so you still have to do extra stuff to be able to join them consistently.
Survey Junkie has a trust score of 4.5 on Trustpilot, which is a great thing for such a large website with such an active user base. Meanwhile, its apps have a score of 4.4 on Google Play and 4.5 on the Apple App Store, which means that they're actually good to use.